Canada has long been recognized as a premier destination for international education. The country's universities and colleges are consistently ranked among the best in the world, and its graduates are highly sought after by employers around the globe. In addition to its academic excellence, Canada offers a safe, welcoming, and multicultural environment that makes it an ideal place to live and study.
Advantages of Education in Canada
There are many advantages to studying in Canada. Here are just a few of the most compelling reasons:
High-quality education: Canadian universities and colleges are known for their rigorous academic standards and innovative teaching methods. Graduates of Canadian institutions are well-prepared for success in their chosen careers.
Affordable tuition: Tuition fees in Canada are generally lower than those in other developed countries, such as the United States and the United Kingdom. International students are also eligible for a number of scholarships and financial aid programs.
Safe and welcoming environment: Canada is a safe and welcoming country with a reputation for tolerance and diversity. International students will find it easy to adjust to life in Canada and feel at home.
Multicultural society: Canada is a multicultural society with people from all over the world. This diversity is reflected in the country's education system, which offers a wide variety of programs and courses that appeal to students from all backgrounds.
Opportunity to work: International students are allowed to work part-time while they are studying in Canada. This can help them to gain valuable experience and earn money to help cover their living expenses.
Pathway to permanent residency: Canadian graduates may be eligible to apply for permanent residency in Canada. This means that they can stay in the country after they graduate to work or start a business.
Types of Institutions
Canada has a wide variety of institutions that offer high-quality education. These institutions include:
Public universities: Public universities are funded by the government and offer a wide variety of undergraduate and graduate programs.
Private universities: Private universities are independent institutions that are not funded by the government. They often offer smaller class sizes and more specialized programs.
Colleges: Colleges offer a variety of diplomas and certificates in specific areas of study.
CÉGEPs (Collèges d'enseignement général et professionnel): CÉGEPs are two-year institutions that offer a combination of academic and vocational programs.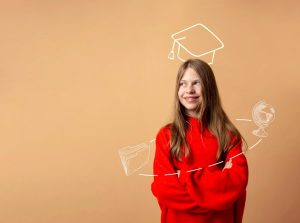 Application Process
The application process for international students varies depending on the institution. However, there are some general steps that all students should follow:
Choose a program: Research different programs and institutions to find the one that is the best fit for your interests and goals.
Meet the admission requirements: Make sure that you meet the admission requirements for your chosen program. This may include submitting your transcripts, letters of recommendation, and standardized test scores.
Apply for a study permit: If you are not a Canadian citizen or permanent resident, you will need to apply for a study permit to study in Canada.
Arrange for accommodation: There are a variety of accommodation options available to international students, including on-campus housing, homestays, and off-campus apartments.
Obtain insurance: Make sure that you have health insurance coverage before you come to Canada.
Conclusion
Canada is an excellent place to study abroad. The country's high-quality education, affordable tuition, safe and welcoming environment, multicultural society, and opportunity to work make it an ideal destination for international students. If you are considering studying abroad, Canada should be at the top of your list.